Erewash Canal
Open to Members
Day permits available on bank to non-members
124 pegs may be booked for matches
The Club's stretch of the Erewash Canal runs from Long Eaton Lock (adjacent to West Park and the town centre) right down to Trent Lock. It is permanently pegged.
Number 1 below Long Eaton Lock and 124 about 100m above Trent Lock.
Anglers MUST fish from marked pegs only (to encourage bank side growth and wildlife between pegs).
This was an excellent canal fishery, and contained the following species:Roach (to 1 lb), perch (to 3 ½ lb), chub (to 6 lb), bream (to 5 lb), gudgeon, bleak, carp (to 20 lb), tench and pike (to 20 lb).  
However, a pollution in October 2012 decimated fish stocks.  Many fish perished and others were removed ahead of the pollution and transfered upstream above the polluted areas.  However, is has become apparent that some of the resident fish escaped the pollution by sheltering in the boatyards, as some big carp and pike are still present.
Early 2013 re-stocking the canal commenced with the introduction of 2,000 roach, perch and bream from the Calverton Fish Farm, and these were followed with a further 8,000 fish (again roach, perch and bream) from the Kennet & Avon Canal near Bath. The latter contained individual bream and perch to around 3 lbs in weight.
During 2014-2015 further stocks of bream and tench have been introduced, and by current time (April 2016) there are excellent fish stocks of all species throughout the whiole pound.
Although the 'natural flow' is to your left, back pumping from the Trent can alter this. Also, lock gates in use at either end of the reach will alter flow. Passing narrow boats do not upset sport – but make sure keep nets are pegged down.
The tow path is used by cycles. Take care when unshipping poles and landing fish (net handles), and keep tackle off the tow path.  Several purpose built fishing platforms have been built to enable anglers to remain clear of the towpath whilst fishing. There are around 10 of these between Tamworth Road and Fields Farm Road bridges, and a few more directly above the stone footbridge towards Trent Lock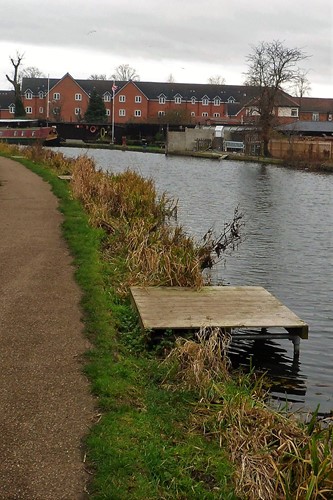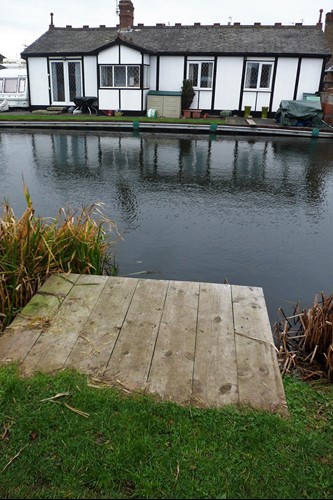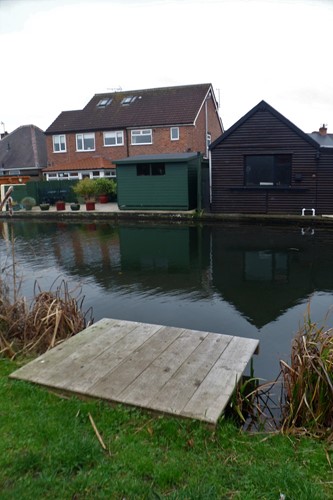 Pole tactics are most popular, although rod and line (with waggler) can also produce.
Successful baits are: maggots (big maggots, squats or pinkies), casters, hemp, tares, worms and bread. The fish will respond to both loose feed and groundbait in moderation. During the warmer months plenty of bait may be fed, but when the water is cold, less feed is needed. During the coldest winter months excellent catches may be made using maggots, chopped worm or punched bread.
Sport Update (April 2016): 
The whole stretch has made a remarkable recovery with some ecellent catches regularly taken.  The big bream generally show above the Tamworth Road (pegs 1 to 20) and at the Trent L|ock end, and several 30-40 lb catches of these have been reported.  Several big carp have been seen, possibly they excaped the pollution by sheltering within the boatyards until it cleared, and perch in excess of 3 lbs have been caught throughout the stretch. 
During 2015 we started to receive reports of tench being caught from all areas, and roach and rudd stocks have certainly re-estabilished themselves with 6 oz fish commonplace and several fish in excess of 1 lb being reported.
Another excellent sign is the number of small fish - showing that we have had several successful spawnings - bream, roach, rudd, perch and bleak all showing in catrches, and when matches have been held the weight have been excellent - usually well into double figures required to win and most anglers have over 5 lbs of fish - superb canal sport.
An excellent 2016-17 season is expected.  Please report good catches (with photos if possible) to:
The use of bloodworm and joker is allowed on the Canal only between 1st October and 31st March.
LEVAS are always interested in hearing from people prepared to join the team that bailiffs this stretch. Please contact the Head Bailiff (Jim Rudkin) or the General Secretary (David Kent).
Directions and Access to Erewash Canal Long Eaton